Pantone
GREENERY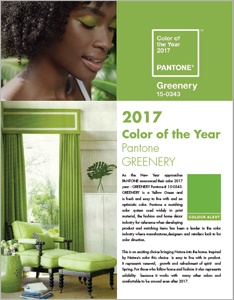 As the New Year approaches
PANTONE announced their color 2017
year – GREENERY Pantone # 15-0343.
GREENERY is a Yellow Green and
is fresh and easy to live with and an
optimistic color. Pantone a matching
color system used widely in print
material, the fashion and home décor
industry for reference when developing
product and matching items has been a leader in the color
industry where manufactures,designers and retailers look to for
color direction.
This is an exciting choice bringing Nature into the home. Inspired
by Nature's color this choice is easy to live with in product.
It represents renewal, growth and refreshment of spirit and
Spring. For those who follow home and fashion it also represents
salability because it works with many other colors and
comfortable to be around even after 2017.