Ultra Purple PANTONE ®18-3838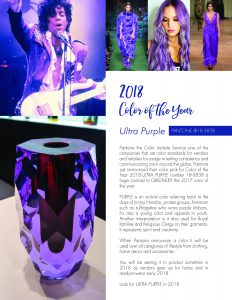 Pantone the Color Institute Service one of the
companies that set color standards for vendors
and retailers for usage in setting consistency and
communicating color around the globe. Pantone
just announced their color pick for Color of the
Year 2018-ULTRA PURPLE number 18-3838 a
huge contrast to GREENERY the 2017 color of
the year.
PURPLE is an activist color referring back to the
days of Jimmy Hendrix, protest groups, feminism
such as suffragettes who wore purple ribbons.
It's also a young color and appeals to youth.
Another interpretation is it also used for Royal
families and Religious Clergy on their garments.
It represents spirit and creativity.
When Pantone announces a color it will be
used over all categories of lifestyle from clothing,
home decor and accessories.
You will be seeing it in product sometime in
2018 as vendors gear up for home and in
ready-to-wear early 2018.
Look for ULTRA PURPLE in 2018