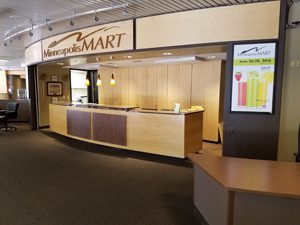 The Minneapolis Mart is "wholesale only" and is operated to serve the resale business base. All buyers must clearly demonstrate that their entrance into the Mart is strictly to conduct business and should be authorized. All buyers who wish a badge need to establish their credentials with the Minneapolis Mart.
Once you have received your badge, you must carry a photo ID with you on all visits to the Mart. During selected days and events we will be confirming the identification of all of our buyers as they enter.
By diligently working to keep our Mart strictly a place for resale store owners and buyers, we believe this policy will result in a much more pleasant buying experience for all. Thank you for shopping the Minneapolis Mart!
Entrance Eligibility
You must be an owner or a buyer for a retail/resale business. To gain entrance into the Mart, please bring the following with you:
A photocopy of your state tax permit, or the confirmation letter from the Department of Revenue;
AND either:
A business check;
A business card.
The Minneapolis Mart Reserves the Right to Request Further Information
Pre-Registration Information
To pre-register and obtain a badge, please fill out & submit the online pre-registration form.
Pre-Registration Form
Credit Application
To obtain a Credit Sheet click the link. When the form appears, click the print button on your browser, complete it and use it when purchasing from any showroom.
Credit Application (PDF)