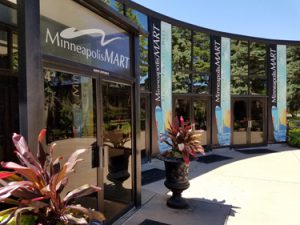 Where is the Mart located?
We are located at 10301 Bren Road West in Minnetonka, MN 55343. You can find us and get directions from our Directions page.
What is your phone number?
Our phone number and contact information is:
Metro Area: (952) 932-7200 / Fax: (952) 932-0847
Toll Free: (800) 626-1298 / Contact Us.
I own a retail store, what do I need to get in?
Every thing you need to know about getting in is located on our Registration page.
Can I bring a guest to the Mart?
Buyers are strongly requested not to bring guests to the Mart. Employees are not considered guests. The Mart is never open to the public.
I need to stay in touch. Can I bring my laptop?
The Mart has free wireless access throughout the Mart. Your wireless laptop computer will work here and you are welcome to bring it along during your visit. The Four Seasons Cafe also has full wireless coverage if you want to work during your lunch or anytime during the day.
Can I bring my kids?
Children (12 years old and younger) are not permitted to attend Markets. Strollers are never allowed. We don't want to disappoint you, but this policy is enforced. We have committed to provide a professional business environment and apologize that it cannot include children. If your child must accompany you on your buying trip, PLEASE make plans for child care during show/Mart hours. There is NO daycare provided at the Mart.
Do you serve food during the shows?
The "Four Seasons Café" is open for food and beverage needs during shows. You will find the selection excellent and we encourage you to relax, go over some of the literature you have collected and enjoy a delicious meal during your day.
What accommodations are available?
The following hotels/motels are recommended to our show attendees. When making reservations, please identify yourself as a Minneapolis Mart show attendee. Any hotel with a "Book Online" will have a special rate automatically applied. Rates are subject to change.

| | |
| --- | --- |
| Fairfield Inn & Suites, Eden Prairie: | (952) 903-9444 |
| Hilton Garden Inn: | (952) 995-9000 |
| Holiday Inn Express – Minnetonka: | (952) 912-9999 |
| Home2 Suites by Hilton – Eden Prairie: | (952) 945-9999 |
| Residence Inn, Edina: | (952) 893-9300 |