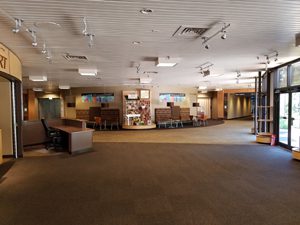 What is the MinneapolisMART?
The MinneapolisMART is the premier regional merchandise mart for the Upper Midwest. For more than 60 years, we have served the wholesale marketplace with Home Décor, Gifts, Apparel, Jewelry, Accessories, Home & Garden, and much more.
What's offered?
There is a unique opportunity to join us at the Upper Midwest gathering point for resale business. We are unique in that everything is on one level; laid out in four walkable wings around the center lobby area. Having no elevators and no stairs, it is easy to work while keeping proper social distancing and easy to negotiate for anyone with mobility concerns.  We are 100% "business–to-business" with all of our space dedicated to our showrooms and their business. We provide the utilities, high speed internet, 24/7 leaseholder access, free on-site parking and the convenience that only a purpose built facility can provide. Affordable lodging, great restaurants and easy access to everything nearby, offers a wide variety of choices to fit the needs of customers and others.
Why lease at the MinneapolisMART?
We currently offer the most competitive per square footage rental cost for permanent leaseholders in the industry which gives vendors an economical way to showcase their full lines in the midsection of the country. The MinneapolisMART is centrally located and easy to drive for the majority of the surrounding states, which makes it an economical and safe exhibition option for retailers to attend.  We provide centralized data, event marketing and let you focus on doing business.  Our Buyer's Guide directory is professionally published by the Mart three times annually.  The Buyers Guide is also displayed on our website for further exposure.
Serious about customers?
Invest in your future with the MinneapolisMART
952-932-7200/800-626-1298