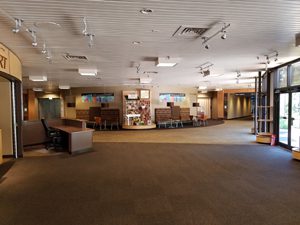 What is the MinneapolisMART?
The MinneapolisMART is the premier Regional Merchandise Mart for the Upper Midwest. For more than 60 years, we have served the wholesale marketplace with Home Décor, Gifts, Apparel, Jewelry, Accessories, Home & Garden, Apparel and much more. You may already know our Association as, "UMAGA" or our facility as the "Gift Mart". In 2006, we became the "MinneapolisMART" to reflect the broad and relevant offerings that are available to the thousands of resale buyers that frequent our shows.
What's offered?
The Mart will offer a limited number of permanent showrooms for lease. This is a unique opportunity to join us at the Upper Midwest gathering point for resale business. Our Mart features 227,000 sq. ft. of space and 140 permanent showrooms which are all conveniently located on a single level of our customer-friendly facility. We are 100% "business–to-business" with all of our space dedicated to our showrooms and their business. No hotel atmosphere or unrelated activities in the MinneapolisMART, just showrooms and businesses like yours. We provide the utilities, high speed internet, 24/7 access, free on-site parking and the convenience that only a purpose built facility can provide. Affordable lodging, great restaurants and easy access to everything nearby offers a wide variety of choice to fit the needs of customers and others.
Why show at the MinneapolisMART?
Exposure to real customers with wholesale sourcing needs. We provide centralized data, event marketing and let you focus on doing business. A number of our current showroom members relocated here from other shows because the MinneapolisMART offers the best wholesale exposure in the Upper Midwest and the best value for your marketing dollar. Three times annually the buyers directory, with the temp shows, is professionally published by the Mart.
Serious about customers?
Invest in your future with the MinneapolisMART
952-932-7200/800-626-1298